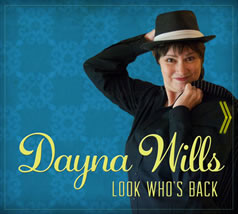 Enjoy my music »
and buy the CD or individual tracks at


or follow the "Buy Now" link
to order the CD through PayPal.
Please allow 2 weeks for delivery.
Dayna Wills, Western Swing singer & songwriter, Hall of Fame member, and Female Vocalist of the Year, Western Swing, 1998

On May 6, 2017, the Cowtown Society of Western Music honored Dayna with a Lifetime Achievement award at their 19th Annual Western Swing Fest in Mineral Wells, Texas.
Event information »
Nominee for the 20th Annual Academy of Western Artists award in the category "Western Swing, Female". 2015 AWA Will Rogers Awards ceremonies were held March 12, 2016 at Texas Christian University in Fort Worth, Texas.

1998 Female Western Swing Vocalist of the Year, as voted at the Will Rogers Academy of Western Artists in Fort Worth, Texas;

Hall of Fame member in The Sacramento Western Swing Society, The Texas Western Artists, The Western Swing Music Society of the Southwest, The Northwest Western Swing Society, and The Cowtown Society of Western Music.

Contact by [ ]
Thank you for supporting the "Raise The Roof" campaign to preserve my Uncle Bob's ranch house, which has been moved from Fresno to near Prather, California, to become a museum.
An article about the house and the effort to save it are in the October-December, 2013 issue of The Guild, the official publication of the Western Swing Guild (article "Saving the Triple B" begins on page 2 »).
View the house on Pinterest.

"Shade of Music", a short film by D. Mitry, features a song co-written by Dayna Wills and George Michael, "Midnight." The song is performed by "Tweety and The Tom Cats", with George Michael on guitar. View the film here, at Cascade Public Media's KCTS9 in Seattle.

Stockton Record, September 6, 2015 »
"One of the coolest bands of all time was a Western Swing outfit called Bob Wills and the Texas Playboys.
"They played a rollicking fusion of country-western, boogie, jazz, rockabilly, big-band swing and other influences so wide it's impossible to understand how Nashville ended up so traditional.
'I didn't like it,' Dayna Wills said. 'It wasn't my rock 'n' roll.'
"Wills, 66, is Bob Wills' niece. A Stockton resident, she's the singer in a rock/R&B band called the Tule Cats. They're well known on the local circuit."
Read the article »
The Tule Cats »
See upcoming appearances »
On YouTube:
Jody Nix and The West Texas Cowboys, with special guests Dayna Wills and Floyd Domino, singing "Sugar Moon", at the Texas Western Swing Hall of Fame awards in San Marcos, Texas, May 16, 2009.